schoolinTYO
Starting your Visualmedia Translation Studies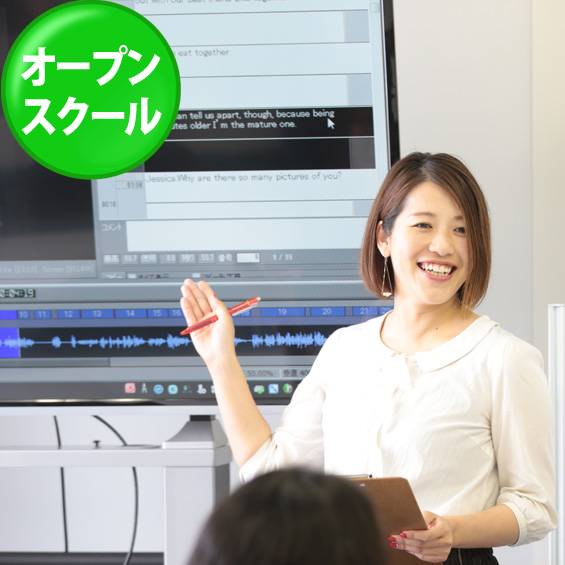 Experience the world of a visualmedia translator at the Japan Visualmedia Translation Academy Open School event. We are waiting for anyone with a passion for learning the skills behind subtitling and dubbing translation.

At our Open School events, visitors are invited to experience a subtitle translation class, take part in one of our information seminars and get to know more about the school itself. Participation is completely free.
For those interested, it is also possible to request an individual guided session, where our staff will be able to answer any questions you have regarding visualmedia translation or our school.

Our Open School events are the starting point for anyone with a passion for film, TV series, and other visualmedia to begin their journey to become a professional visualmedia translator. Before long, you will learn how to apply your translation skills to all different kinds of media content and truly understand what it means to be a visualmedia translator.

We are looking forward to seeing you at our school soon.

日英映像翻訳科 修了生のインタビュー

◆佐藤慶子さん(日本語)
http://www.jvta.net/tyo/je-interview1-sato-keiko/
◆ジェシー・ナスさん(英語)
http://www.jvta.net/tyo/nichiei-jessi-interview/
◆船橋藍子さん(英語)
http://www.jvta.net/tyo/nichiei-funabashisan-interview
◆マット・ヘンリーさん(英語)
http://www.jvta.net/tyo/nichiei-matt-henrysan/
◆上田英美里さん(英語)
http://www.jvta.net/tyo/nichiei-ueda-emirisan/
◆二コール・ウィルキンソンさん(英語)
http://www.jvta.net/tyo/nichiei-nicole-wilkinsonsan/
◆ニーナ・マツシマさん(英語)
http://www.jvta.net/tyo/nichiei-nina-matsusimasan/
◆キャッチポール若菜さん(英語)
http://www.jvta.net/tyo/nichiei-wakana-catchpole/
◆イレイン・ホン(英語)
http://www.jvta.net/tyo/nichiei-elaine-hung/



Starting your Visualmedia Translation Studies
Japan Visualmedia Translation Academy Open School Events

【Schedule】
20th March, 2017(Sunday) 9:30~13:20

【Participation Conditions】
Participation is free of charge.
We welcome anyone with a passion for film and TV series, enthusiasts with an interest for subbing and dubbing or anyone simply looking to learn more about the visualmedia translation world.

Learn About the World of Visualmedia Translation
In this seminar, a representative of our school will explain the background behind visualmedia translation and how it is possible to turn your passion for both media and translation into a career. What's the appeal of visualmedia translation work? Who can you turn to for help? What kind of opportunities exist for a visualmedia translation professional? You will get answers to all these questions and more.

Japanese Subtitling Trial Lesson (English-to-Japanese)
A director from JVTA's Media Translation Center will explain everything from fundamental subtitling rules to hints on creating clear and effective subtitles. No previous visual media translation experience is necessary to take part. During the seminar, you will get the chance to create Japanese subtitles by using professional subtitling software.

English Subtitling Trial Lesson (Japanese-to-English)
In recent years, Japanese anime, manga, film, and TV series have become more and more prominent on the international stage and this has led to a rapid increase in demand for both Japanese-to-English translators. In this trial lesson, participants will have a chance to try their hand at creating English subtitles, and exchanging thoughts and ideas on the translation process as a group. No previous translation experience is necessary, and we accept students of any English/Japanese level.

Translation School Information Session
In this information session, we will introduce the different courses available at our school, the merits of the JVTA curricula, a description of the work opportunities and various events that await our JVTA students. As one of the biggest visualmedia translation schools in Japan, JVTA turns out a huge amount of visualmedia translators to find their place in the world of film and television industry. If you love film and if you love English, you will surely find your place here.

*For those who wish to receive some information on JVTA and its courses. Our staff will introduce the different courses available, and share information on how to sign up. You will receive personal counseling on choosing the right course, what to study and your own progression after completion. If you would like to make an appointment, feel free to contact us at any time.

**It is mandatory for all those wishing to join our translation school to attend an Open School event or individual guidance session. (We are able to provide individual guidance sessions between 9:30 and 17:00.)*

【Time schedule】
20th March, 2017(Sunday)
<Start from 9:30>
9:30~10:20 Learn About the World of Visualmedia Translation
10:30~11:20 English Subtitling Trial Lesson (English-to-Japanese)
11:30~12:20 English Subtitling Trial Lesson (Japanese-to-English)
12:30~13:20 Translation School Information Session



【Place】
Japan Visualmedia Translation Agency, Tokyo School
2F/3F Kyodo Bldg., 3-2-4
Nihombashi Hongoku-cho, Chuo-ku, Tokyo

【Access】
5 minutes from the South Exit of Kanda Station on the JR Yamanote Line, Chuo Line and Keihin-Tohoku Line.
5 minutes from Exit 2 of Shin-Nihonbashi Station on the JR Sobu Line.
5 minutes from Exit A8 of Mitsukoshimae Station on the Tokyo Metro Ginza Line and Hanzomon Line.
9 minutes from Exit A1 of Otemachi Station on the Tokyo Metro Marunouchi Line, Tozai Line, Chiyoda Line, Hanzomon Line and Toei Mita Line.
´Click here for the map

【Inquiries 】
03-3517-5002
seminar@jvta.net

【Reservations 】
To reserve a place, click on the following link
https://www.jvta.net/tyo/open-school/