[JVTA発] 今週の1本☆inBLG
今週の1本 『Fed Up』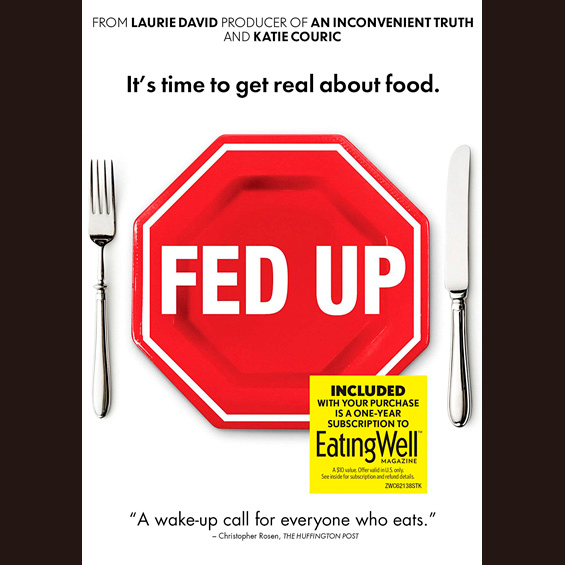 2月のテーマ:スイーツ

As someone who has always been known to her friends as "the one with the sweet tooth," sweets seemed like the perfect blog topic for me. Visions of sugary-sweet films like "Charlie and Chocolate Factory" danced in my head as I brought my pen to the paper. Surprising even myself, I ended up choosing a film that takes this topic in a completely different direction.

"Fed Up" is a 2014 American documentary film directed, written and produced by Stephanie Soechtig, with narration and co-production by journalist and TV personality Katie Couric. One among several recent documentaries that examine the sad state of the American diet, "Fed Up" takes a sharp look at the alarming obesity epidemic in the U.S. and pinpoints the main cause as sugar, which is found in nearly every processed food imaginable in staggering amounts. Yet the real villain, it argues, is not the sweet stuff itself, but a massive junk food industry that aims to push sugar-laden products onto the American public in every way possible, regardless of health consequences.

The highly relevant "Fed Up" succeeded in shocking the very nation it talked about, as people began to question the truths behind the foods they consumed on a daily basis. Eyes were opened to the reality that the norm they were surrounded by and had gotten used to was, in fact, not so normal. Living outside of the U.S. for over 10 years, particularly in a country with a completely different relationship with sugar, has provided me with a lens that made me well aware of the dangers of the American diet. Trips back home raised new questions that hadn't crossed my mind before. Are there no sugar-free drink options, like tea? Are sugar-filled cereals really consumed as breakfast? Were sodas always this big? Was cake always this sweet?

The answers were yes, and always had been. What I had started to question were things that the majority of the American public seemed to take little notice of, and never questioned. Nothing was seen as particularly strange – without something else to compare it to, this state of affairs became the norm. "Fed Up" points out our relationship with sugar and emphasizes that no, it is not normal, but there are reasons it has become this way, and it mostly starts and ends with a corrupt sugar industry.

By focusing on the fact that efforts to curb the sugar industry by schools, states, parents and Congress, the future this film paints is not a bright one. However, the main message that this fact-filled, fast-paced film looks to convey is clear as day: sugar is shortening our life span – it's time to change our diet, and it's time to change it now. Let's hope that not just the U.S. but other countries as well will start a healthier relationship with the sweet stuff.

──────────────────────────────
『Fed Up』
Director: Stephanie Soechtig
Writers: Mark Monroe, Stephanie Soechtig
Stars: Michele Simon, Katie Couric, Bill Clinton
──────────────────────────────


Written by ジェシー・ナス


[JVTA発] 今週の1本☆ 2月のテーマ:スイーツ
当校のスタッフが、月替わりのテーマに合わせて選んだ映画やテレビ番組について思いのままに綴るリレー・コラム。最新作から歴史的名作、そしてマニアックなあの作品まで、映像作品ファンの心をやさしく刺激する評論や感想です。次に観る「1本」を探すヒントにどうぞ。