eventinTYO
Learn Japanese with Reality TV!
– Demo Lesson for Beginners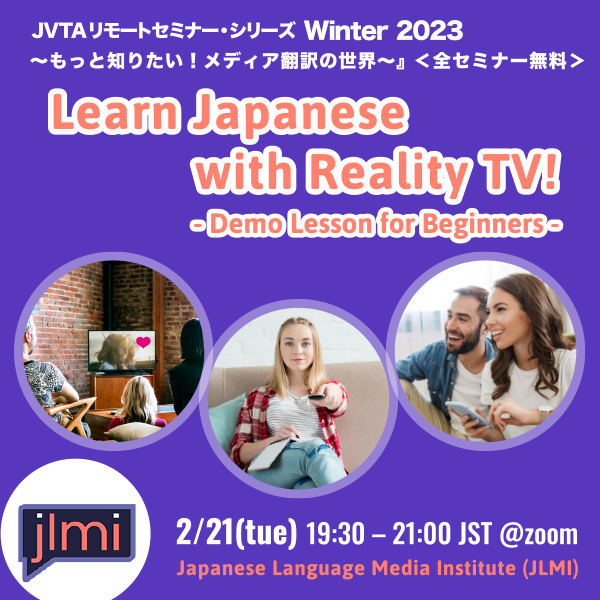 Perfect for beginners! Using clips and dialog from a popular Japanese reality series, learn how to improve your Japanese for use in the real world! Tired of textbooks and repetitive apps for language learning? Turn on the TV and start learning today with this fun and educational introductory class at JLMI.
This event is for but not limited to:
・JLPT N5 – N4 Beginner Learners
・Anyone interested in Japanese culture
・Anyone who loves reality TV
・Anyone who enjoys casual conversation practice with like-minded learners
・Anyone who likes to have fun while they are studying a new language
Agenda:
We will watch several clips from a popular reality TV series currently available online around the world. Instructors will examine key phrases, play simple games to build vocabulary, walk students through sample conversations, coach them through creating new phrases of their own and provide feedback for roleplays.
Date: February 21st (Tuesday) 7:30 – 9:00pm JST
Lesson Fee: Free! (A recording of this class will not be available)
Class Style: Online (Participants will receive either a Zoom link, or a link to our Learning Management System JVTA Online where the Zoom link is posted.)
Max. number of participants: Unlimited
Sign up period: Prerequisites: None (Participants outside of Japan are welcome!)
Meet the Instructors: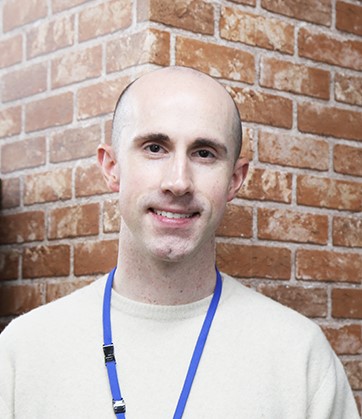 Bill Reilly
Director of JLMI, Planner and Lecturer at JVTA. With over 13 years of experience living, working and performing in Japan, Bill uses his love of language to assist companies and creators in selling their ideas overseas. Bill is currently in charge of designing the curriculum for the Beginner and Intermediate courses at JLMI, both of which are based completely on current media streaming online. He enjoys using roleplay activities and plenty of Q&A opportunities in his classes to keep students speaking and learning.
To sign up:
Please sign up for the class through the form below. Once you have filled out and sent the form, an automated email will be sent to your email address with information on how to participate on the day of the class. Please be sure to read through it carefully.
If you have any questions, please contact us at the address below:
seminar(at)jvta.net
*Please replace the (at) with an @ mark
-Participate with ease through our JVTA Online platform!
JVTA began to implement remote learning in our classrooms in 2015, and has converted to completely remote learning in all of our courses since 2020. In October 2020, we introduced our very own learning management system JVTA Online which has been very successful in assuring students are able to participate in class, receive and hand-in their assignments on time, and communicate easily with teachers and staff. With this single system, we have been able to provide a stable, comfortable, and efficient remote learning experience. By holding our lessons through video conference, students are able to study from home just as they would in the classroom, and can ask questions, discuss, and receive feedback from their teachers and fellow classmates.

You do not need to be a student of JVTA to use JVTA Online. Once you have registered, you can apply for courses and seminars once you login. There are even videos of classes you can only view on JVTA Online. Be sure to give JVTA Online a try!
If you would like to learn more about JVTA Online, please click here (in Japanese only).
◆『JVTAリモートセミナー・シリーズ Winter 2023
~もっと知りたい!メディア翻訳の世界~』<全セミナー無料>
ラインナップは▶こちら
◆【入学をご検討中の方対象】
リモート個別相談を受け付け中

※詳細・お申し込みはこちら
---