eventinTYO
※終了しました※【緊急企画!】Jan 22, 2021 "Life as a Japanese-English Media Translator"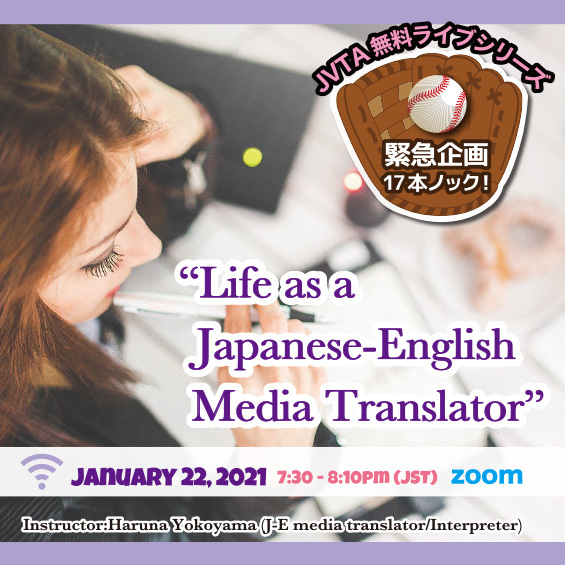 【緊急企画】2021年1月15日~2021年2月12日/January 15, 2021 – February 12, 2021
 JVTA無料ライブシリーズ
「巣ごもり応援 オンラインセミナー 17本ノック!」
(全日程は、▶こちらでご確認ください)

Friday, January 22, 2021/19:30 – 20:10(JST)
Life as a Japanese-English Media Translator

This lecture will be held as a virtual meeting. Free admission.

Translating the latest Japanese media like movies, TV drama and anime might sound like your dream job. But what's it really like to work as a media translator? How can you break into the industry? And how has the COVID-19 situation shaken things up? In this Q&A session, California-born subtitle superstar Haruna Yokoyama is here to share her insights on going pro Japanese media localization.
We'll be chatting about everything from bilingual life in the entertainment industry to the essential skills every freelance translator needs to master.

For:
– Fans of Japanese media
– Japanese speakers of all levels (including native/background speakers)
– Hobby translators who want to go professional
– Japanese language students looking at career options
– People who want to work from home & anyone with a passion for the Japanese language and media!

[Guest]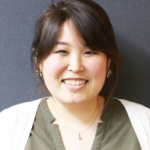 Haruna Yokoyama(J-E media translator/Interpreter)
JVTA graduate Haruna Yokoyama is a Tokyo-based media translator. Coming from a Japanese-American background, she attended a local Japanese school from K-12 in her home state of California. After graduating from UC Riverside with a major in economics, she began her career at a Los Angeles import-export company. She began studying subtitling at JVTA Los Angeles and moved to Japan 2011 to learn at our Tokyo campus. In 2013, Haruna graduated the J-E and made her debut as a pro subtitle translator with JVTA's Media Translation Center. As a freelancer, Haruna now works in a diverse range of J-E translation projects, as well as interpreting, editing, transcription — even stopping by JVTA as a guest lecturer.

Interviewer:


Alice Byron (JVTA)
Alice is a translator for the School division of JVTA. Since graduating from Sydney University in Australia and beginning her career in video game translation, she's devoted her life to bringing the best of Japanese pop culture and media to a wider audience around the world.

[Date]
Friday, January 22, 2021/19:30~20:10(JST)

[Prerequisites]
– Able to participate in English

[Inquiries]
Phone: (+81) 0 3517-5002
Otherwise, please use the form below.

[Apply Now]
Use the secure form below to secure a place.